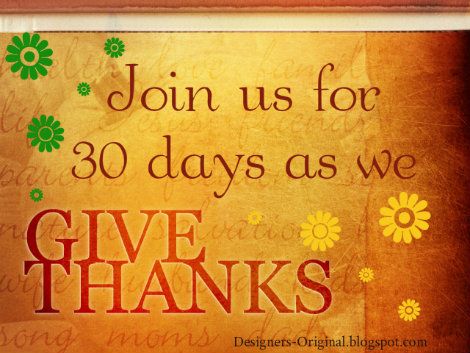 This is part 2 of my 5 in 1 post of my 30 Day Give Thanks Challenge. Part 1 has Day 20 - Day 24. So, this post will cover Day 25 - Day 29. Then I will be caught up. Let's get started. Shall we?!?
I'm going to share five of my favorite scriptures that I am thankful for. I have to read them from time to time, when I need to recollect myself and gain some perspective sort of speak.
Day 25 - I am thankful for Matthew 6:25. Sometimes I tend to worry more often than I should. But when I read Matthew 6:25, it gives me the reassurance that God knows very well what we need; And that we should not worry because He got us cover.
"Therefore I say to you, do not worry about your life,
what you will eat or what you will drink; nor about your body,
what you will put on. Is not life more than food and
the body more than clothing?" (Matthew 6:25)
Day 26 - I am thankful for Psalm 27:14. This scripture reminds me to wait on the Lord. It also reminds me that in the midst of my waiting not to lose heart, maintain a positive attitude, and be of good courage. A delayed gratification is more appreciated and long lasting than an instant gratification. So, if you are waiting on something, just be thankful to the Lord and you will be blessed.
"Wait on the LORD; Be of good courage,
And He shall strengthen your heart;
Wait, I say, on the LORD!" (Psalm 27:14).
Day 27 - I am thankful for Hebrews 11:1. Faith moves mountains. Faith gives confidence as well as reassurance. Faith is believing without seeing. Jesus said that we are blessed when we don't have to see in order to believe. Hebrews 11:1 reminds me that I can claim ownership on whatever I am believing in God before it is manifested. I don't need concrete proof in order to believe. I just have to believe in my heart and have faith that it is done in the name of Jesus.
"Now faith is the substance of things hoped for,
the evidence of things not seen." (Hebrews 11:1)
Day 28 ~ I am thankful for 2 Timothy 1:7. When going through certain situations or have to make a life changing decision, it can be very scary. Fear may even try to sit in spirit and try to overshadow your fear. But I am quickly reminded by 2 Tim 1:7 that fear is not part of our spiritual DNA and is not of God.
"For God has not given us a spirit of fear,
but of power and of love and
of a sound mind." (2 Timothy 1:7).
Day 29 ~ I am thankful for Mark 11:22. Sometimes we do not speak to our mountains as Jesus commanded. There may be times when we try to tackle the mountain ourselves by climbing it, compromising with it, or even simply tryimg to ignore it. But Jesus doesn't want us to do that. He wants us to take full authority in His name by speaking to it and commanding it to go away and never to return. Mark 11:22 reminds I can have what I say by the power and full authority in the name of Jesus.
"For assuredly, I say to you,
whoever says to this mountain,
'Be removed and be cast into the sea,'
and does not doubt in his heart,
but believes that those things he says will be done,
he will have whatever he says."
(Mark 11:22)